---
Big power.
Small Package.
---
Aerospace certified material
4330V
88mm, 94mm, and 100mm strokes
Standard sizes
4 or 8 counterweight configurations
Extensively lightened
Straight-shot oiling
Fully balanced
Please contact Winberg for Mitsubishi 4G63 pricing.
 303-783-2234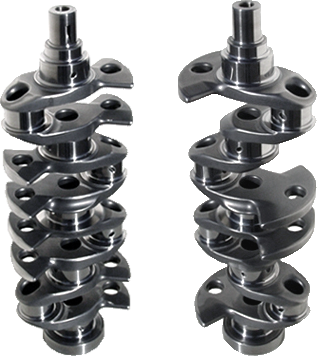 ---
The following is a list of Mitsubishi 4G63 crankshafts that we have in our excess inventory. Although many of the crankshafts listed here are finish ground, they are all in various stages of production. Delivery times will vary. This list is not exhaustive, but a list of our in stock items that are for sale. Please call with crankshaft reference number for pricing. This list does not include crankshafts that are currently in production.  If you are in need of a crankshaft that is not listed, please call.